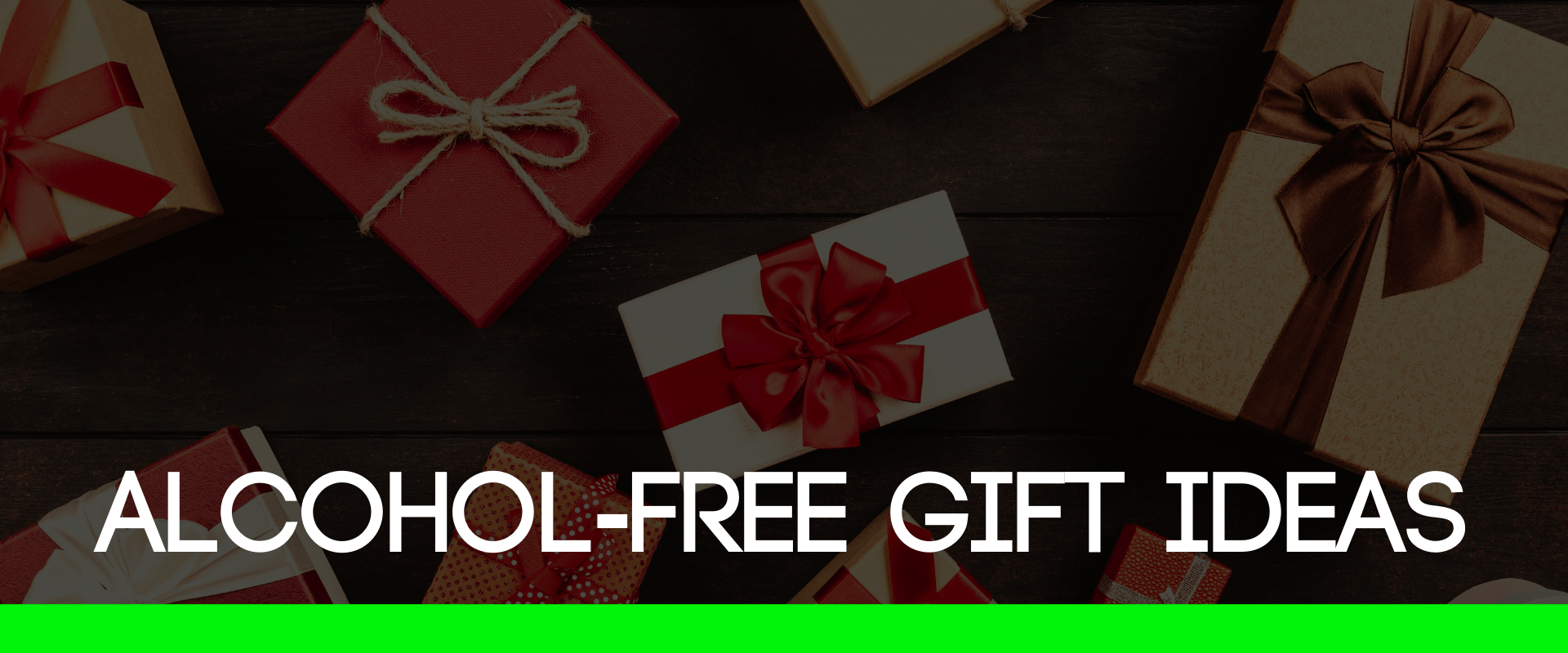 6 Alcohol-Free Gift Ideas For Your Friend or Colleague
Looking for the ideal gift for your friend who doesn't drink? Our handy guide to alcohol-free gift ideas has you covered.  
–
Oh, just pick up a bottle of something alcoholic, that'll do… Except when it won't!
There's nothing worse than gifting somebody an item, only to realise it's not suitable. They might be allergic to it, the flavours aren't what they like or they're they've given it up, for whatever reason, you'll know you've done wrong as soon as they set eyes on it.
Most people won't make a big deal of the situation, they'll just take it home and either offer it to a new home or let it gather dust at the back of the cupboard. Maybe they'll pass it onto that quirky Auntie Jill or the neighbour down the road in exchange for some help clearing out the gutters. But, on the odd occasion, they do bring up your 'obvious' mistake, things just get mega-awkward!
Our advice, do a little homework, ask before you buy. But then again, if you're reading this, chances are you've already done that, and you have someone in mind.
Ok, so you've done a little digging and heard Caroline four cubicles down doesn't drink alcohol, what on earth do you give her now?
Below are a few of our top alcohol-free gift ideas-
1.
Alcohol-Free Wine or Spirits
Just because people don't drink alcohol, doesn't mean you need to look too far from the bottle. Just means you need to change the bottle you get. 
Thanks to a recent surge in popularity of alcohol-free (AF) drinks, there's a whole host of great non-alcoholic wines and spirits that your alcohol-free buddy is bound to enjoy. 
Some of our favourites are;
Sea Arch Non-Alcoholic Spirits – Plus they've reached out to offer all readers of this blog a 15% discount with the promo code – FestiveSeaArch15 – https://seaarchdrinks.com/ 
Mockingbird (Alcohol-free Tequila) 
Naughty Organic Sparkling Wine from Thomas and Scott. 
The great thing about these is that not only do the drinks taste incredible, but they look good too.
2.
A Crate of Their Favourite AF Beer or Cider
Again, the number of brilliant AF beers and cider choices have gone through the roof these past few years, A crate of your friend or colleague's favourite would go down brilliantly.
Again, here are a few of our suggestions.
Lucky Saint sell crates of their award-winning AF beer in varying sizes.
Drynks Ultimate – great-tasting ales and ciders.
Drop Bear Beer Collection. – a brilliant range of AF beer
Lowtide – a fantastic AF craft beer
3.
Spoilt For Choice – A Subscription for AF Craft Beer
Don't know their favourite? Why not get them a subscription to a monthly AF delivery. An opportunity for them to expand their AF knowledge, to try new AF drinks every month!
Here are three excellent options;
4.
Alcohol-Free Merch and Accessories
A tote bag to proudly hold all their AF drinks, a hoodie/ t-shirt that helps support their favourite AF brand. Or even a quirky bottle opened, because AF bottles are special, but don't open themselves. 
5.
Life-Giving Coffee
Everybody loves coffee, right? We're not suggesting just your average Nescafe sachet though. At YADA we like our coffee both full of flavour, and that helps vulnerable people change their lives for the better. It's for that reason we've both partnered with and suggest you look at Sacred Bean Coffee.
Sacred Bean Coffee is a social enterprise initiative pioneered and run by people overcoming life-controlling issues.  They work with socially excluded people overcoming struggles such as homelessness, offending behaviours and substance abuse, teaching them how to source, roast, brew and retail artisan coffee that is both ethical and great tasting.
So, if you give the gift of their coffee, you'll both now your AF friend will love the flavours, but also that you're helping more people the more you purchase.
6.
Healthy Alternatives – Alcohol-Free Gift Ideas
A drink often popular with non-alcoholic drinkers, Komboucha is a fermented drink made with tea, sugar, healthy bacteria and yeast. It often touted for its health benefits. 
Holos Komboucha is a top tasting Komboucha brand that similar to Sacred Bean Coffee go the distance for people in need1 They exist as a social enterprise, helping to provide employment, training and support for survivors of human trafficking. A gift of this drink is a gift that keeps on giving.
+7. An 'IOU' Drink At Our Non-Alcoholic Bar In Derby.
YADA Collective is a bar created with alcohol-free drinkers in mind. We're creating a space that can be enjoyed without the pressures that go with drinking. Many of the above alcohol-free gift ideas will be available at YADA as well as a great company, good conversation and an inclusive culture. If you're in the area and we're open, why not bring your AF friends and buy them a drink.
This blog was pressed by Craig Picton