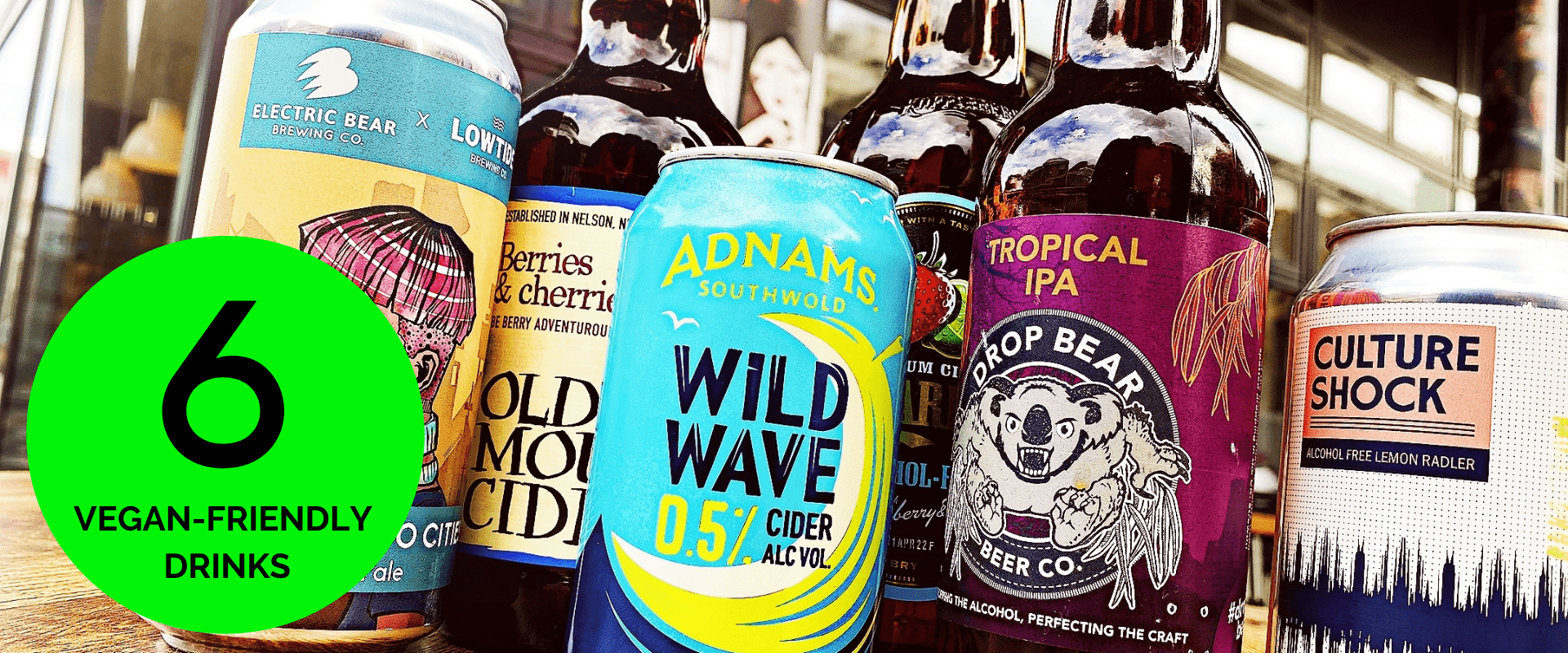 Vegan Alcohol Free Summer Drinks
Can I be vegan and alcohol free?
In short, YES! Picture this: you've recently hopped aboard the vegan bandwagon to get rid of the turkey and stuffing muffin top you gained over Christmas (it's okay, we all did) and now you are panicking that there aren't any good vegan alcohol free drinks out there. Or perhaps you're a veteran vegan, but you're fed up with the mundane flavours of your local supermarket.
So what now?
From garden parties to picnics and everything in between, we're giving you the low down on six vegan alcohol free summer drinks that are sure to quench your thirst in the not-so-exotic UK heat.
Why are some beers not vegan?
You might be thinking, "Well, what makes a drink vegan or not vegan?", allow me to shed some light on that. 
Some beers aren't vegan because brewers add finings to their drinks – these are commonly used to give beers a clearer appearance and include ingredients such as gelatin and isinglass, which are obtained from animals. Brewers may also add honey and lactose for flavour or sweetness and a colouring made from insects called cochineals. 
If in doubt, always check the packaging to be sure! 
6 Vegan alcohol free drinks
Good news, however! A lot of brewers of alcohol free beer and cider now use vegan ingredients in their drinks, here are our top six for summer 2021: 
An IPA from Drop Bear with an abundance of tropical hops. This alcohol free beer comes with blasts of passion fruit, stone fruit, and citrus. It's bound to take your mind to more tropical climates, even if your body is stuck here in the UK.
Teeming with hops and flavour, Lowtide Brewing's 'A Pale of Two Cities' should be a staple in your cooler this year – a hazy pale for hazy summer days. 
Bursting with the aroma of juicy forest fruits, Old Mout is a drink best served chilled, with ice and strawberries and blueberries.
Fear not, you can enjoy the refreshingly fruity taste of the popular Strawberry & Lime without the headache in the morning. Koppaberg truly is the perfect drink for a summer (meatless) BBQ!
As with the weather, this Adnams cider is distinctively English; vegan and alcohol free without compromising on the flavour. A blend of juicy, crunchy apples and a classic cider taste – refreshing and delicious.
Bottoms up!
So there we have it; a variety of alcohol free drinks suitable for vegans to keep you cool this summer. Of course, this doesn't mean you can't enjoy these if you aren't vegan, so why not give them a go? You can definitely find me drinking some of these in the sun… or rain… let's be real here.
If you have tried any of these, or have some you think should be on our list that we haven't mentioned, we would love to hear your thoughts!
Be sure to follow us on Instagram for up to date drinks suggestions and other alcohol free related content. – @YADACollective
Have a great day!
– This blog was concocted by Bex.