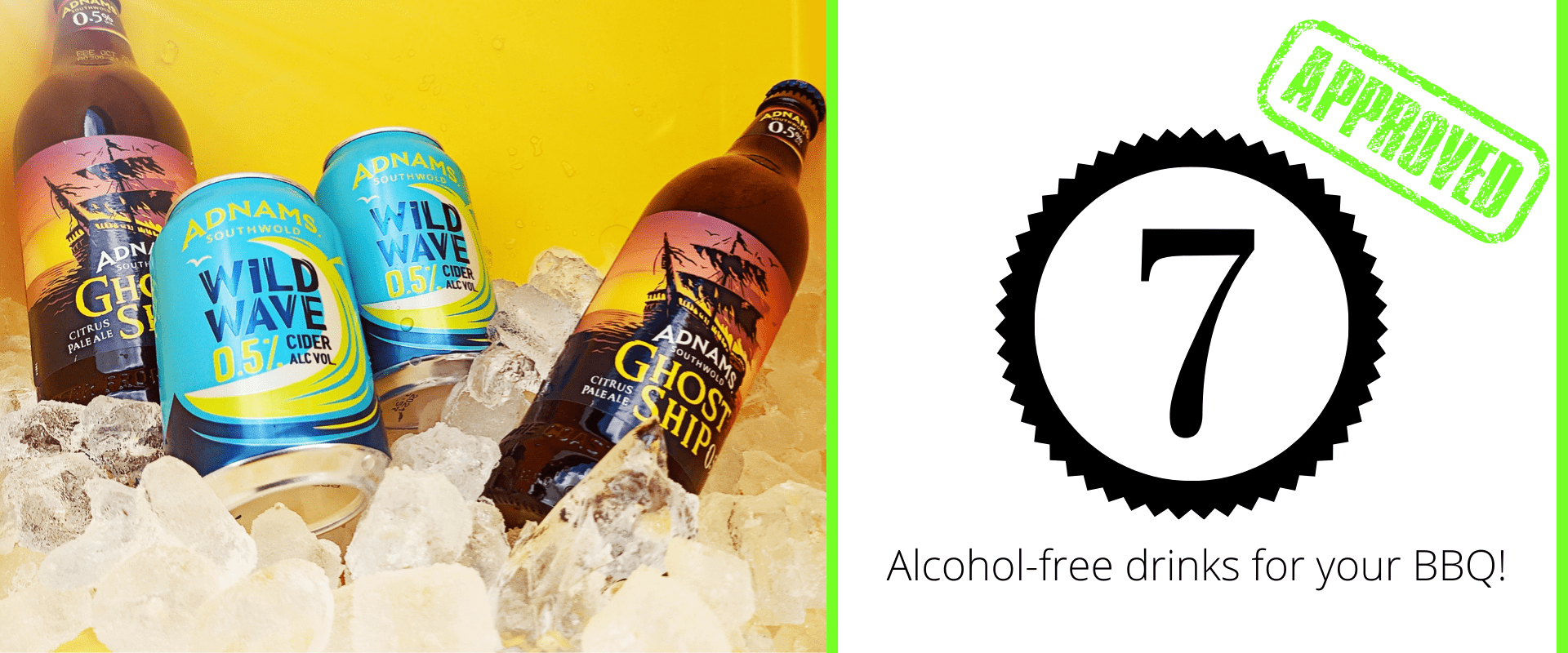 7 BBQ-worthy Alcohol-free drinks
The heatwave is here! What better time to turn on the barbecue, gather with friends and enjoy some refreshing tasty ice-cold drinks. If you are looking to enjoy this coming weekend booze-free, then you are in luck. Fern has compiled a list of 7 BBQ-worthy AF drinks you are bound to love!
1. Esmeralda
What is the best way to start a BBQ? Get a drink that refreshes your soul and awakens your tastebuds. Esmeralda's citrus notes similar to those in Tequila and Mexican Cerveza make it a staple summer beer.  Gluten-free and Vegan, this is an option everyone can enjoy. Order yours here, add some lime, and you are good to go!
2. Noughty
Another classic and one of my go-to options is a refreshing glass of wine, specifically a rosé such as Noughty's Sparkling Rosé. This wine pairs nicely with desserts, so go on, treat yourself!
3. Adnams Wild Wave
Another favourite of mine is a nice cold can of  apple cider, particularly Adnams Wild Wave. Perfect for all-day barbecues, where you can continue drinking from the afternoon straight into the night with friends and family.
4. Champions Cider
If you prefer fruity berry ciders, then Champions is for you. Not only are they alcohol-free, they are also low in calories, so you can drink as many as you like entirely guilt-free!
5. Highball
Cocktails always go down well when the sun is out, and Highball provides a classic range from a Cosmopolitan, to Gin & Tonics and an Italian Spritz. They can all be found here on the YADA website!
6. So Good Kombucha
Curious about Kombucha? So Good Kombucha by Lesley So is not only full of health benefits, but tastes delicious no matter the flavour. You can even dress it up as a cocktail to get that summer feeling we have all been missing! To find out more, you can read our blog about So Good Kombucha here.
7. Non-Alcoholic Spirits
For the creative types out there, why not try your hand at making your own cocktail? We stock a variety of alcohol free spirits on our online store, such as Lyre's and Seedlip. Experiment to your heart's content with different flavours and combinations to create your own barbecue favourites!
—
Eager to try these drinks out and want to get them in time for your next BBQ? Order today on our online store.
To stay up to date on new AF drinks we have in stock, make sure you follow us on our social media sites @yadacollective. Whether you order a drink or make an alcohol-free cocktail, feel free to tag us, so we can celebrate with you.
Don't forget to read our last blog about the growing trend in Teetotalism.
—
This blog was grilled by Fern Southam