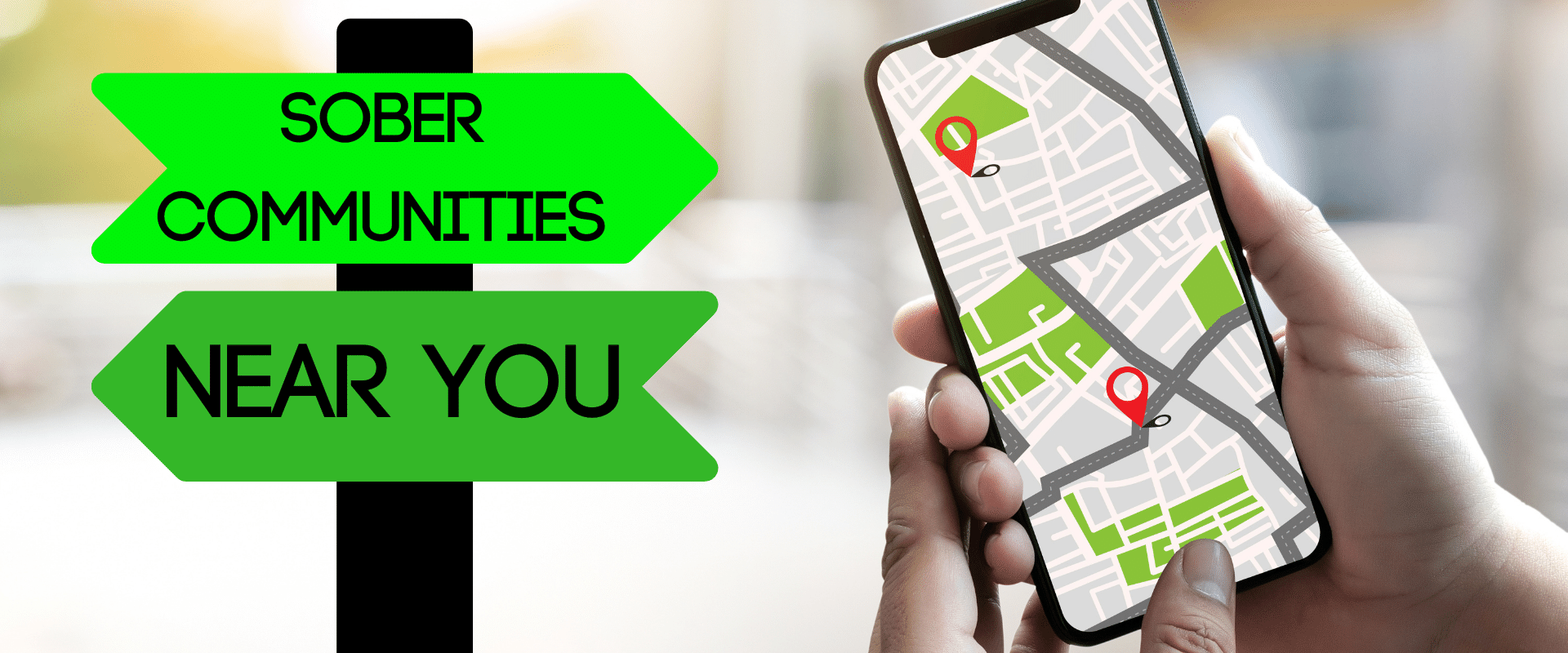 Discover Your Nearest Alcohol Free Community!
Sober Community Map
Not in Derby and can't make it to YADA? No problem, you can now use our community map to discover your nearest alcohol free community to fulfill your social void!
Our community map lets you meet new people, make friends and find support from like-minded folk!  We've scoured the web on your behalf and reached out to all our friends in the sober-sphere to help you find the nearest community to you. You can find alcohol free social opportunities in your area with just a few clicks of a button.
How to use the map?
It's simple. Search for your area and have a look around. Each community is marked with an image/ logo that represents it. Click on the image and you'll find a snapshot about the community. Click the link and you'll be taken to the best place to find out more about that specific community and get plugged in. (If you click the top right box of the map, you'll be taken to the full version on Google Maps)
Next steps, be brave and attend one of the events they host. Say hello to new people and potentially make freinds for life. Then don't forget to let us know how you get on.
Not found anything nearby to you? Never fear, you've got a few options.
Why not set one up and be the mover/ shaker in your local area. While there may not be a pin point on the map, we can be certain that you're not alone.
Become a local ambassador for an existing sober group. On this map you'll find many larger collectives with great motives who can support you on this journey.
Join the

YADA Collective Discord

– an online alcohol free community space where people from all over can gather, share stories, have a laugh and find somewhere to belong.
Wait and keep checking back in – Our plan is to update this map as and when we hear of more communities forming. So, if there isn't one on your doorstep yet, there may well be very soon! (Following us on Instagram and joining our Newsletter list will be great reminders for you to check back on here on the regular)
// Disclaimers //
While the YADA Collective team partner with many of the communities featured on the map, and call many of the people who lead them freinds, we do not claim ownership of them and therefore can't vouch for how each of them operate. We are not resposible for any activities that occur in/ as part of the communities listed. - Stay Safe!

We're also aware that while we've tried our best to pinpoint communities to set locations, we know they have the tendency move around. Some are pinpointed on specific spots such as our own non-alcoholic bar in Derby. Others host pop up events and gatherings across the city/ area we've pinpointed them.

All communites on this map are welcoming to new members and are open to you travelling from anywhere to take part in their activites.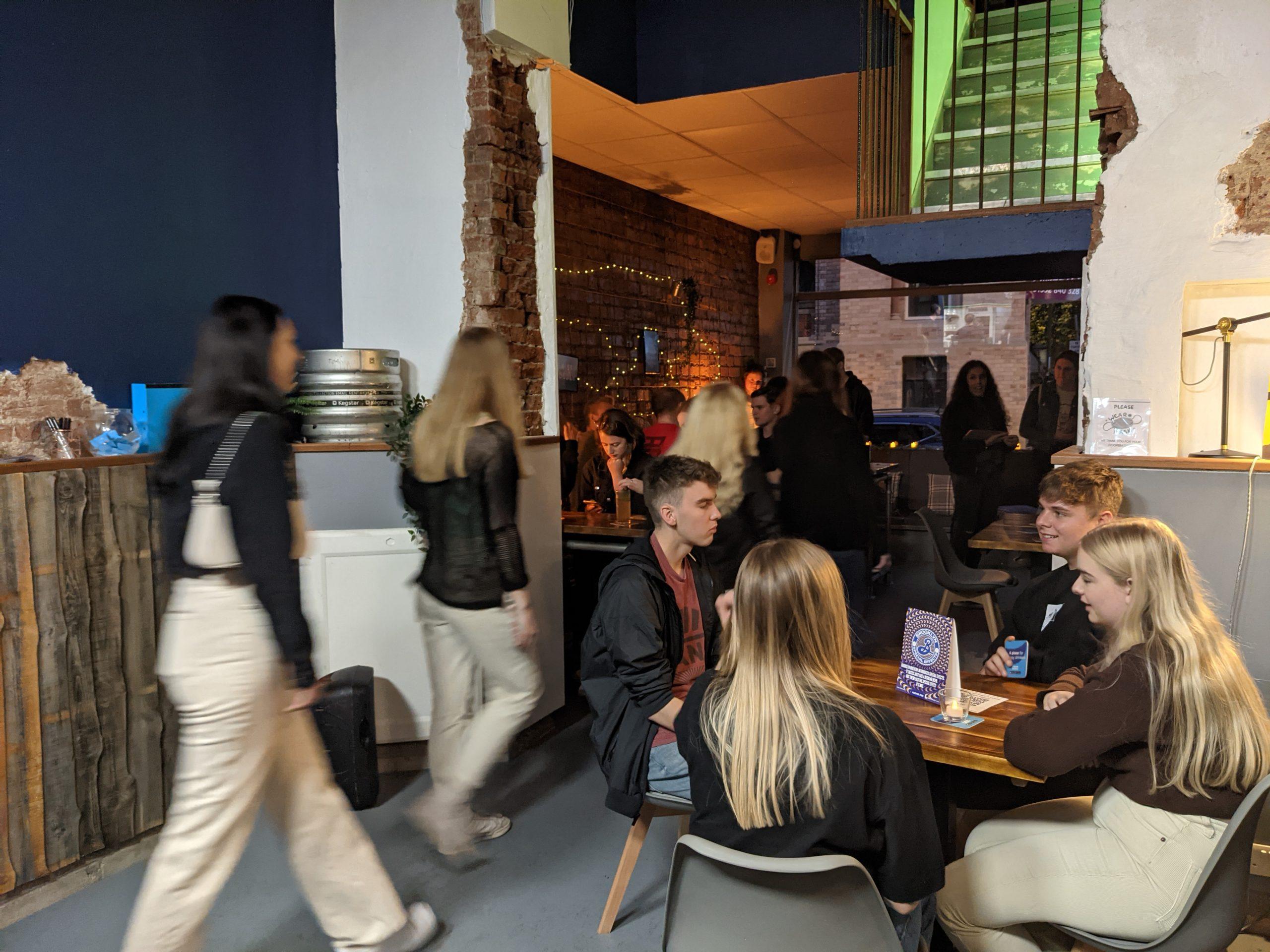 Share This Map With Your Tribe!
Now you've found your nearest sober activities, why not help others do the same by sharing the below graphic with your sober friends around the world. We plan to continue updating this map so check back in a few weeks/months and there will no doubt be something new to find.
Get Your Community On The Map!
While we've teamed up with lots of different communities to create this map, we know we'll still be missing some.
So, if you run or attend an in-person alcohol free community/ gathering or regularly host a sober event in a set area, please do reach out to us. – Drop us a message on our website chat, via Instagram, or email us on Hello@YADACollective.co.uk – We love to hear of new and exciting things taking place in the sober-sphere and can't wait to help share what you're up to with the world.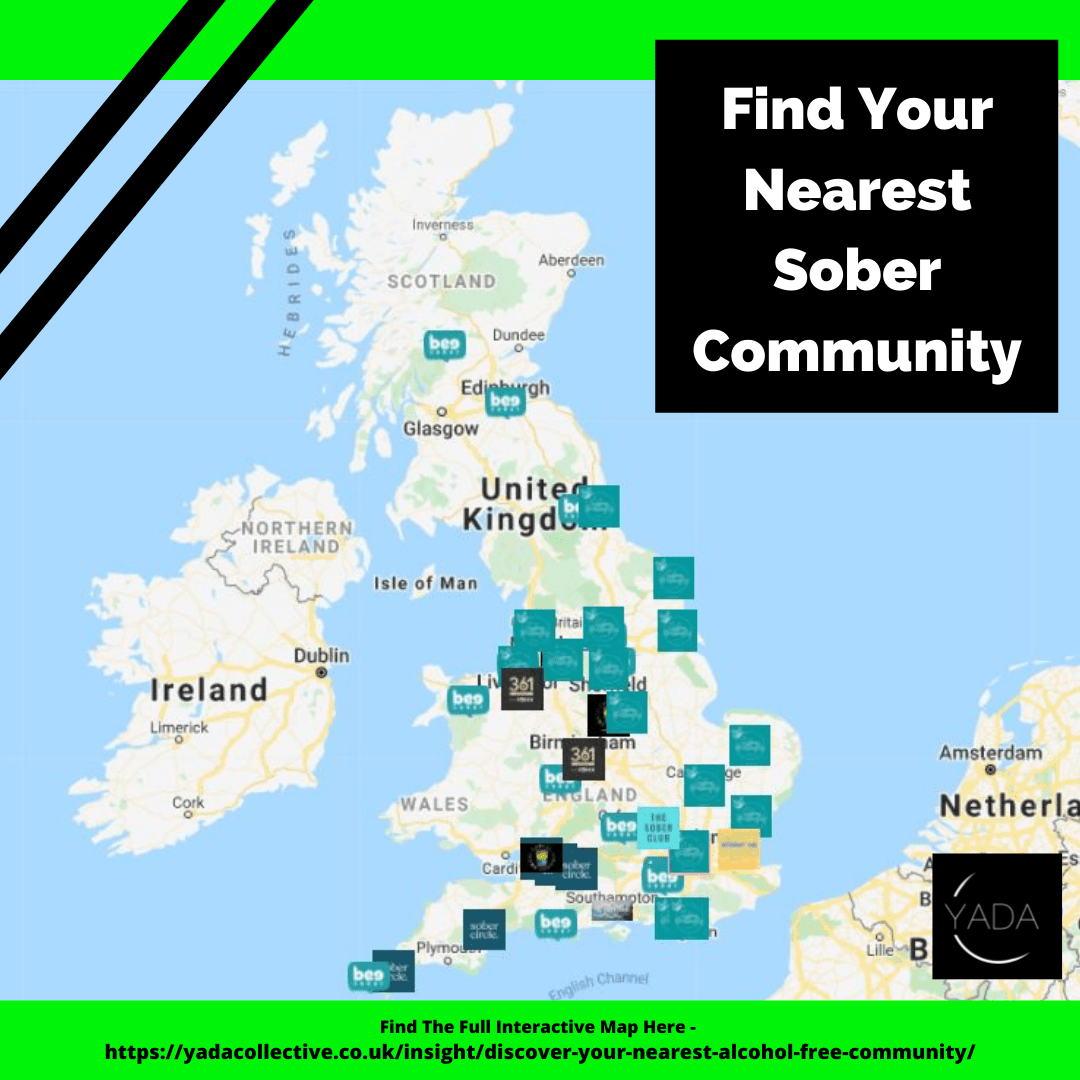 YADA Collective CIC is a start-up social enterprise with a mission to be a thriving, inclusive alcohol-free bar and venue that serves the city of Derby and beyond. After a number of years hosting pop up events, we have now acquired a venue that we (and we hope you too) can call home. Getting to know people and building community is key to all we do. We believe having people come alongside you to support, encourage and challenge you will ultimately mean you continue to grow through life and all it throws your way.
We are fortunate enough to be able to work with some amazing communities in and around Derby and Derbyshire. Just a few of them include; the Midland's arm of Queers Without Beers, an LGBTQ+ community, a worship and songwriting community (Acts4) and a community for creative minds (Poetry Praise Sandwich). You can learn more about the work we are doing and how to get involved here.
Oh, and then there is YADA's Online Community which is full of people local to Derby and beyond. A place where you'll become known by name and where you'll no doubt find like-minded people who you never know, may even become lifelong friends. – The YADA Community Discord can be found here.