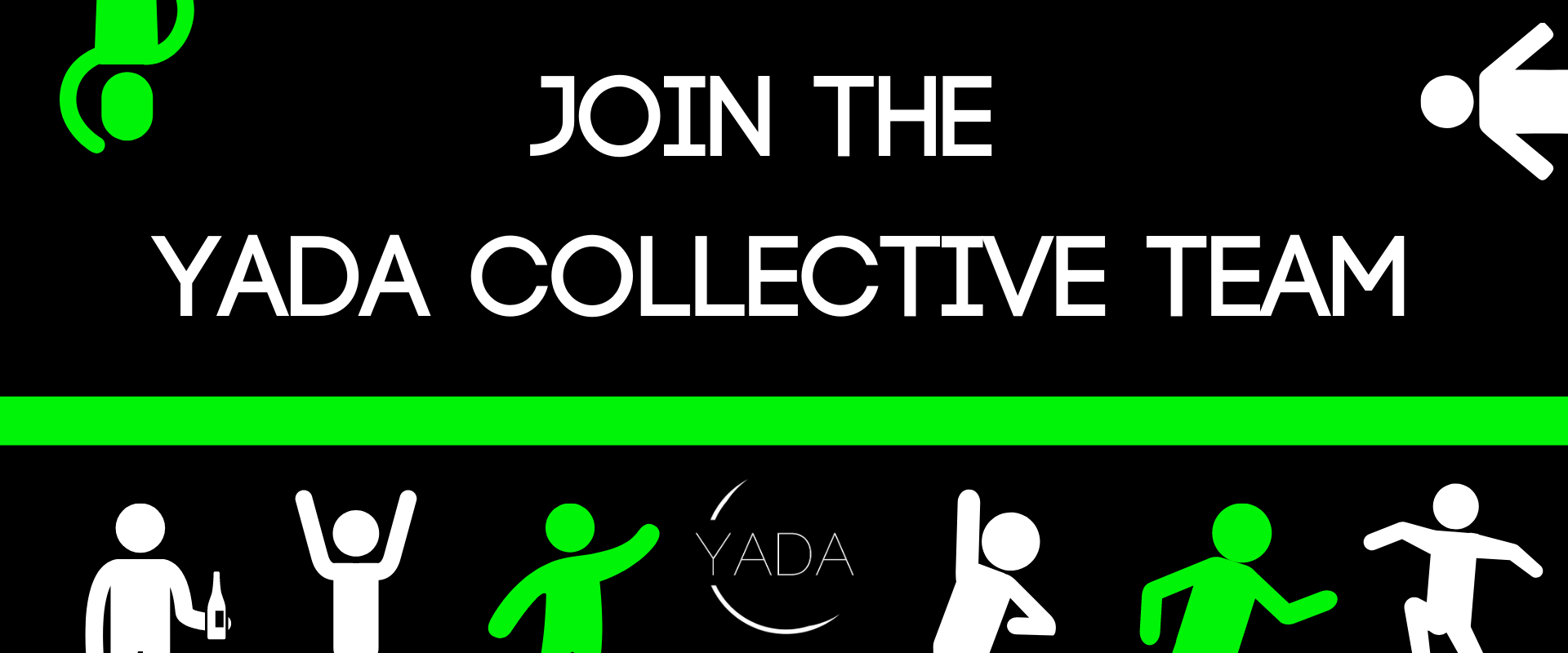 The YADA Collective Team Is Growing And We Want You To JOIN US! – Administrative and Digital Marketing Assistant
– Administrative and Digital Marketing Assistant – That's right, the team behind Midland's first alcohol-free bar and online store dedicated to selling the World's best non-alcoholic drinks is expanding!
With so many new and innovative ideas in the works, we're looking for inspiring, passionate and creative people to join us on our mission.
Positions we're currently looking to fill include:
Administrative and Digital Marketing Assistant
Keep reading this page for more details about our fantastic Administrative and Digital Marketing Assistant position or click here to take a look at the volunteer positions we're also looking to fill.
Administrative and Digital Marketing Assistant
YADA Collective CIC is a start-up social enterprise with a mission to be a thriving, inclusive alcohol-free bar and venue that serves the city of Derby. We began in 2016 as a project of a local charity, and have spent the last few years building our audience through pop-up events. This year we have been fortunate enough to have acquired a venue that we can call our own. As we begin this next phase of our journey, we are keen to tell our story, reconnect with the community and increase our reach.
What you will be doing:
Ultimately, we are currently a very small team and are looking for someone to assist us in the everyday running of the business. Whilst the main responsibilities will be
administrative (with a particular focus on marketing), the successful candidate will be expected to assist in all areas of the business, including (but not limited to) finance, business development and customer service.
Particular responsibilities include:
Work with the Marketing Director to assist digital marketing tasks including, but not limited to, website upkeep, writing of blogs/newsletters, email communications and press releases,
Execute the marketing strategy for all YADA projects that coincide with project needs and objectives
Build and maintain relationships with partners, influencers and supporters of YADA
Create/source material to be posted on social platforms in accordance with
objectives and analysis
Analyse and amend marketing methods in keeping with the aims and objectives of YADA Collective
Attend meetings and take minutes where necessary
Assist with enquiries both from customers, partners and suppliers
Support with the fulfilment of e-commerce orders
Other ad-hoc tasks (data entry etc.) relating to the further development of the
business.
What you will get out of it:
We are a very new business and, as such, the successful candidate will not only get
experience in a wide range of business departments, but you will also have the
opportunity to grow with the business. You will be able to see the difference that your work makes in a healthy and personable environment, with greater involvement in key business decisions such as marketing strategies.
What we are looking for:
We care more about your character than your skills and experience. We are aiming to make a difference in the night-time economy and reconnect with the community. A desire to help and serve the local community, a willingness to make a difference and a charitable heart is therefore essential.
Essential skills, experience and qualifications:
Essential:
Understanding of tools such as MS Office
Excellent communication skills, both verbal and written
Able to build strong internal and external relationships
Able to manage own time
Ability to thrive in a dynamic work environment
Desirable:
Experience with filming and video editing.
Basic understanding of marketing platforms (social media etc.)
Basic understanding of website platforms (WordPress etc.)
Prior experience or qualifications in admin or marketing
Hours/Working Pattern:
25 hours per week to be worked generally during office hours on Monday, Wednesday & Thursday (with some flexibility with regards to both start/end times and, days worked).
Hourly Rate of Pay:
National Minimum Wage
Closing Date for Applications:
Friday 20 February 2022
*Please note that this opportunity is a Kickstart Job Placement. We, therefore, regret that we are only able to accept applications from applicants aged 16-24 and currently claiming Universal Credit. Please speak to your Work Coach at the Jobcentre to apply.
—
If you are interested in hearing more about this role and applying further. We'd love to chat about it with you. Please reach out to us via email and include a copy of your CV in the email – Hello@YADACollective.co.uk.
We look forward to hearing from you. ~Team YADA!