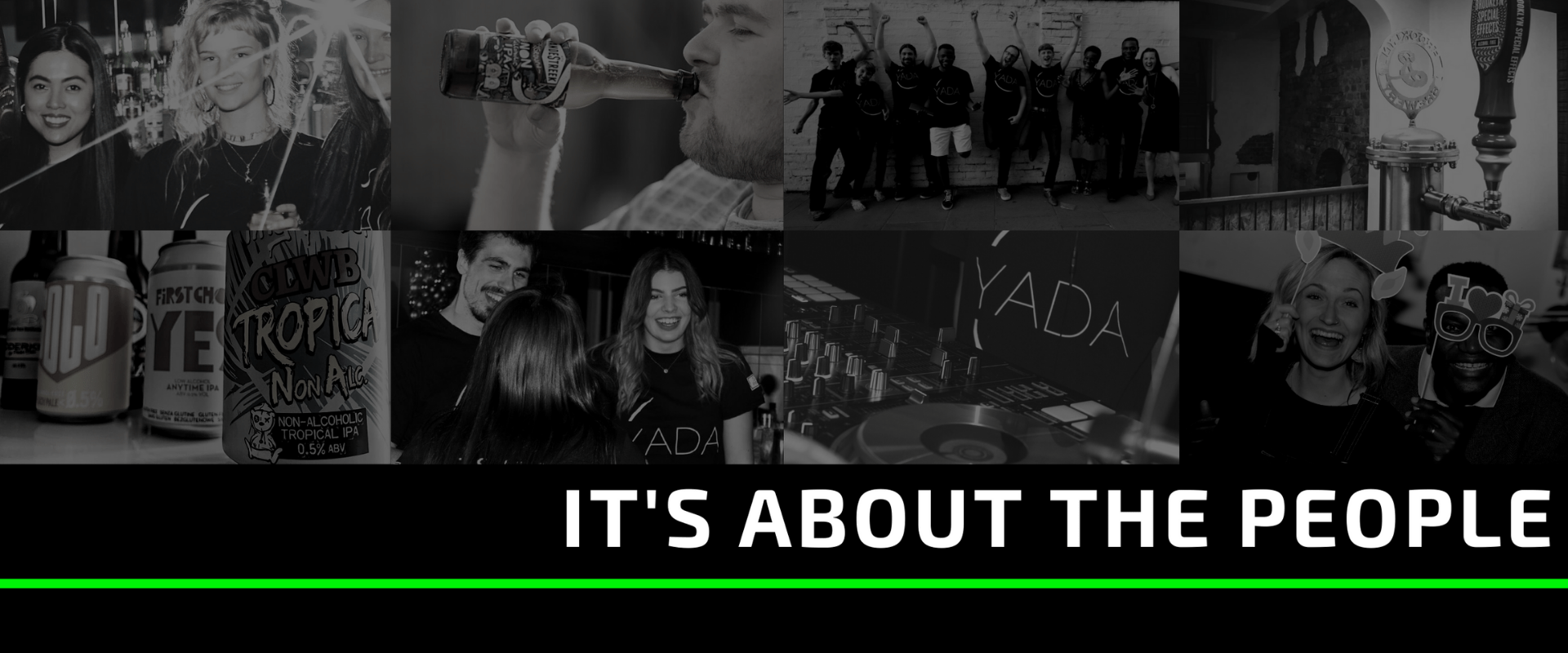 Why An Alcohol Free Bar?
"What's the point in an alcohol free bar?"
"Who would go there?"
"That's not for me"
These are just some of the questions we get when we tell people we are opening an alcohol-free bar and venue. So we wanted to do a quick response and give you an idea of what we are hoping to achieve.
1. For The Sober…
For the sober, there is not much on offer in the night-time economy.
Naff AF drinks (Becks Blue) kept in a dusty cellar or having to settle for a cheap cola. Alcohol-fuelled environments filled with drunk people. The forced responsibility of being the designated driver. We want to change that!
YADA aims to be a thriving alcohol-free (AF) venue that showcases the best that the AF industry has to offer. Ditch the responsibility of keeping track of your drunk friends. A space where you can enjoy your night without the pressures…
2. For The Sober Curious
There has been a change in people's relationships with alcohol, with the younger generation especially drinking less than their parents.
People are becoming more and more curious about this sober life. Asking the question, do I really need it? Could there be another way? One of the difficulties of giving up alcohol is replacing it with something else, and socialising without it. We can help with that, keep the social ditch the alcohol. We want to be a place where you can explore these questions and provide a community to join you on this journey.
3. For Those Having A Night Off
"I am never drinking again" is usually the lie we tell ourselves when waking up with a hangover. Completely turning off the tap can be difficult, but having regular breaks can be an easier way to reduce your alcohol intake. In fact, having a break from alcohol is becoming a more common occurrence with big campaigns like Dry January, Sober Spring and Sober October. What could it look like to do that on a more regular basis? A week here or there, one weekend a month, or even just replacing one of your tinnies for an AF beer.
Whatever you decide works for you, YADA is here to help.
4. For the Community
We recognise that as an AF venue we are uniquely positioned to do so much more than just be a bar. YADA is positioning itself to make a positive impact in the community and that is what we intend to do. This looks like partnering with charities who support the vulnerable of our city, running our own projects and…….so if you are interested, give us a shout.
You will be seeing and hearing more from us on this soon. We actually have some exciting news to share about our first team-up, so keep an eye out for that. 
5. For the Counter-Cultural
Ever thought of doing something wildly different, that completely goes against the norm? We know the feeling! We are question askers, risk-takers, with a view of building a contrasting community.
YADA is making a place where people can be different, dream wild ideas and work it out together. 
So there you have it. FIVE solid reasons for an AF bar.