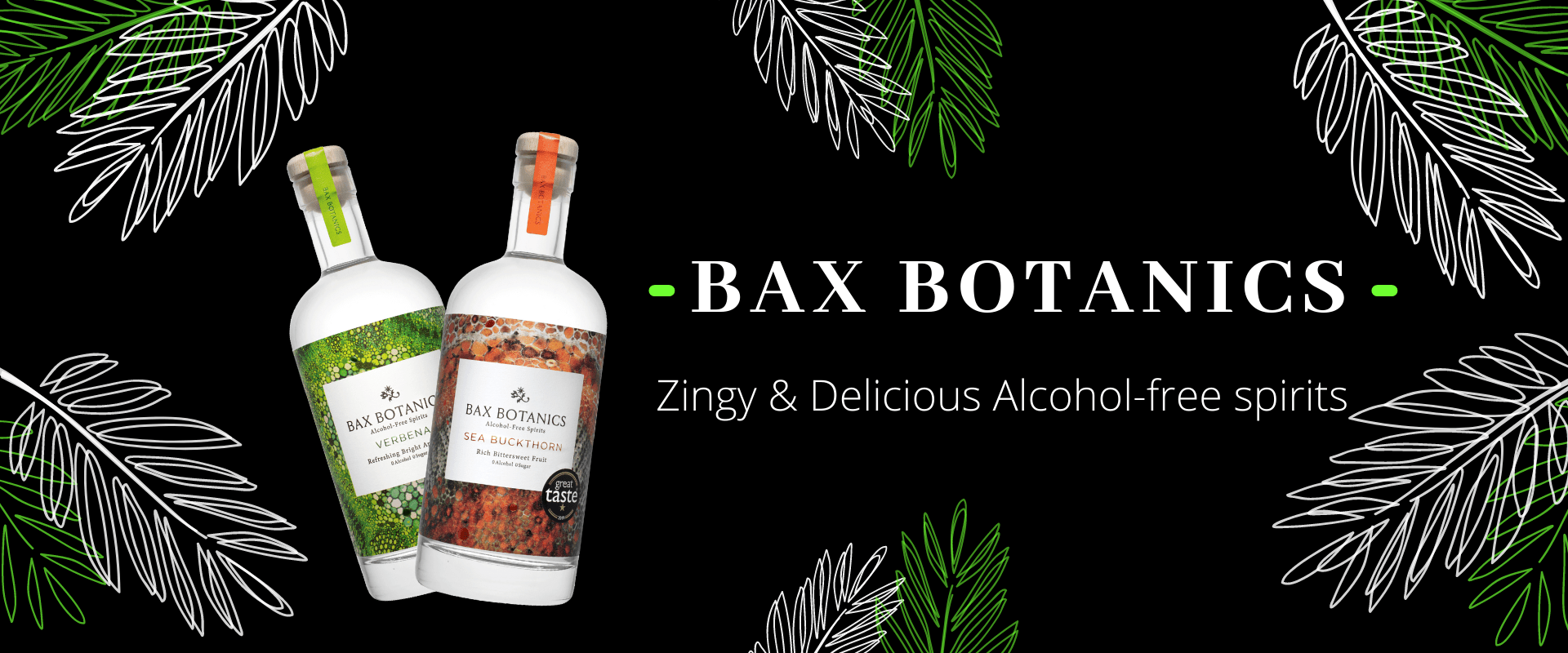 Your New Favourite Botanical Drink
We are halfway through the week which means there are more exciting things to come. And by that, we mean a freshly distilled guest blog from Bax Botanics! If you were on the hunt for a new botanical drink to try then you are in the right place…
Better yet Bax Botanics might just become your NO.1 alcohol-free spirit!
—
When is a gin not a gin? When it's something new!!
Bax Botanics has often been compared to an alc-free gin. Richard Davie and Miriam Nice from BBC Good Food once hailed us as "Best Alcohol-Free Gin" in a review. But we never set out to make a gin.
The dictionary definition of gin is: "a clear alcoholic spirit distilled from grain or malt and flavoured with juniper berries".
So, an alcohol-free gin must also be flavoured with juniper.
We use no Juniper in our distillation. So what is Bax Botanics?
A new era of botanical drinks is emerging that are not Juniper based…That's us!
Rose and Chris Bax spent years working with plant flavours before Bax Botanics began and they have poured all their knowledge into these drinks.
Just like gin, distillation is used to extract the beautiful taste and scents from botanical ingredients, add a couple more secret techniques and you are on your way to creating a drink.
What makes the process of distilling different?
The interesting thing about distilling with botanicals is the range of flavours you can extract. The process can create amazing depth and complexity of flavour, that grown-up style of drinking that can be lacking for those not drinking alcohol.
It's not surprising how versatile botanical ingredients are when you think of the incredible choice we have! From Fruits and berries, through fragrant herbs, bitter roots, seeds and aromatic spices. Even seaweeds and fungi, there are almost endless combinations.
Although it sounds easy, It takes a lot of skill to match the right ingredients together to formulate delicious drinks.
It's all about balancing flavours and taste. There is the obvious stuff like balancing sour with sweet, wood and earthy with acidity etc. but with literally thousands of combinations available when you add multiple ingredients, it becomes a bit of a minefield.
The other thing about smell and taste is that it is incredibly evocative of a time and place. Do you remember a time when a taste or smell brought back vivid memories? Have you ever had a moment, when you are taken by surprise by a tiny sensory stimulus (e.g. the scent of your Mum's soap) that evokes an emotional memory of when you were a child?
This moment that is the 'taste/memory link' people call 'the Proustian moment' It was described more than 100 years ago when Marcel Proust dunked cake in his tea!! "I quivered attentive to the thing that was happening inside me"
This is where things got really interesting, and we have always tried to add this extra feeling with the recipe of botanicals in our drinks.
There are two versions of Bax Botanics that have distinctly different characters.
Bax Botanics Verbena served with tonic is the bright zingy one, with mint, fennel and floral notes, all designed to pep you up. It's refreshing and uplifting, all created by using herbs with high notes, bright fragrance and citrus.
Perfect for when you're out for lunch with the girls, watching the cricket, picnicking in the park or just want a pick me up after a day at work or a shopping trip! Verbena is the one that puts a zing in your mouth and a spring in your step.
Our Sea Buckthorn is the calming one, the other end of the scale in our eyes, lay back and relax with a mix of Seville orange, rosemary and lightly warming spices. Somehow this recipe gives us an ahhhhhhhhhhhhhhhhhhh at the end of the day. Turn on some chill-out tunes, early or late it's time to get mellow and unwind. Speakeasy AF.
We really believe that botanicals can excite our tastebuds and transport us to memories and places. Experimenting with flavour is still one of our favourite things to do.
Our Organic, Fair-Trade Botanicals are used with skill and care to create our drinks.
But are Bax Botanics' drinks Gins?
No, they are alcohol-free botanical distillations, but that's a bit of a mouthful, albeit a totally delicious one!
—
To order your first bottle of Bax Botanics visit our store here today.
Intrigued and want more information on botanical drinks then head over to the official Bax Botanics website.
If you enjoyed this blog why not read our previous one: How To Go Sober For Summer.
—
This blog was kindly distilled by Bax Botanics