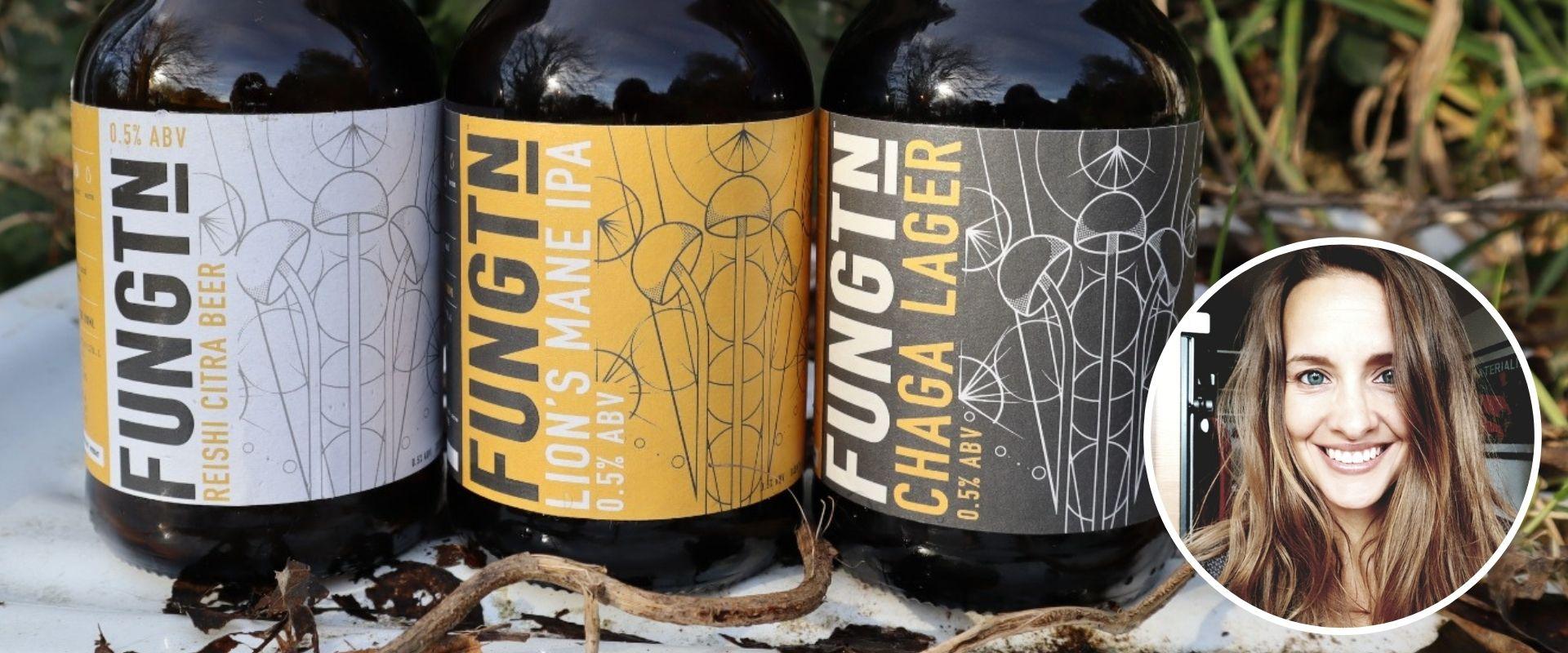 Functional Mushrooms In Alcohol-Free Beer – What Makes Them The Magic Ingredient?
Functional Mushrooms in beer – are you mad?! We spoke to an inspiring young woman, Zoey Henderson, who's decided to roll up her sleeves and prove that mushrooms and beer are a magic combo. Here's a guest article from Zoey, creator of The Fungtional Brew Company, detailing the inspiration behind her mushroom inspired alcohol-free beer.
Fungtn is the first adaptogenic, alcohol-free beer brewed with functional mushrooms. A premium craft beer range, brewed to 0.5% that complements daily routine, using ancient, healing adaptogens in a modern context. We wanted to go past just removing the alcohol for a more mindful beer, creating more options for conscious drinkers looking to reduce their alcohol consumption and empower their health.
Functional Mushrooms what now? AND did you say mushrooms in a beer?
It probably goes without saying we need to give you a little break down of what this functional beer is all about, what mushrooms we are using and why we thought it was a good idea to put them in a beer.
What is a functional beer?
Standard beer has two functions; 1. refresh your thirst, 2. get you pissed (which then dehydrates you which then cancels out 1. So mainly it gets you pissed.
We brew craft beer with functional mushrooms known as adaptogens. Their function….They help support your body to adapt to stresses and help keep your mind and body in good form! – The opposite of being drunk.
We put a lot of physical and mental stress onto ourselves, through thoughts, actions and toxins. When our bodies work at the optimal condition we really are superheroes. The problem is since modern life has taken its toll. We can however help by eliminating toxins, eating well and getting lots of sleep. (this does not always go to plan especially in your 20's)
Fear not, nature has given us a helping hand in superfoods like adaptogens of which ginger, ashwagandha and functional mushrooms are just a few.
Adaptogens are an igneous class of plants and fungi that help the body balance and perform at its best. Helping to regulate hormone levels, immunity function, blood sugar and cognitive functions such as focus and sleep patterns.
Adaptogenic mushrooms have been used in traditional medicine and wellness for thousands of years and now science is backing up this ancient wisdom with the evidence that this superfood class of fungi contain complex bioavailable compounds that really do help support and balance our internal systems.
Think of this analogy; adaptogens don't bring more bouncers to the club of 'your body' they just beef up the ones you do have to help keep the nasties out and keep the vibe sweet.
BIG QUESTIONS; Will The Functional Mushrooms Get Me High And Will My Beer Taste Like Mushroom?
Firstly no, as you now know these superfood fungi are pretty magic but not psychoactive so no trips here. Secondly, they have a unique flavour profile of earthy, nutty, bitter, sweet very similar to hops. This is why they made the perfect partner for craft beer. No trace of your regular pizza topping or risotto shroom taste here!
We wanted to find a regular way to get these amazing mushrooms into our daily routine, many people take them in supplement form and add to their coffee ritual so we wanted to find another time that you could enjoy their benefits. To us, there is no better social ceremony than hanging out with friends and having a drink! Now we all know that alcohol doesn't always have to be at the core of this experience and that is the social aspect that makes it fun, we saw beer as the perfect partner! Bringing mushrooms into the mainstream and making great craft beer hangover free!
Last thought…Let's not forget that the grandaddy of fungi (yeast) is what makes out beer. So, if you think like that all beers are mushroom beers!
To find out more about our beers and the mushrooms we use head to Fungtn's website.
This blog was fermented by guest blogger, Zoey Henderson. Creator of Fungtn's creative alcohol-free beers.