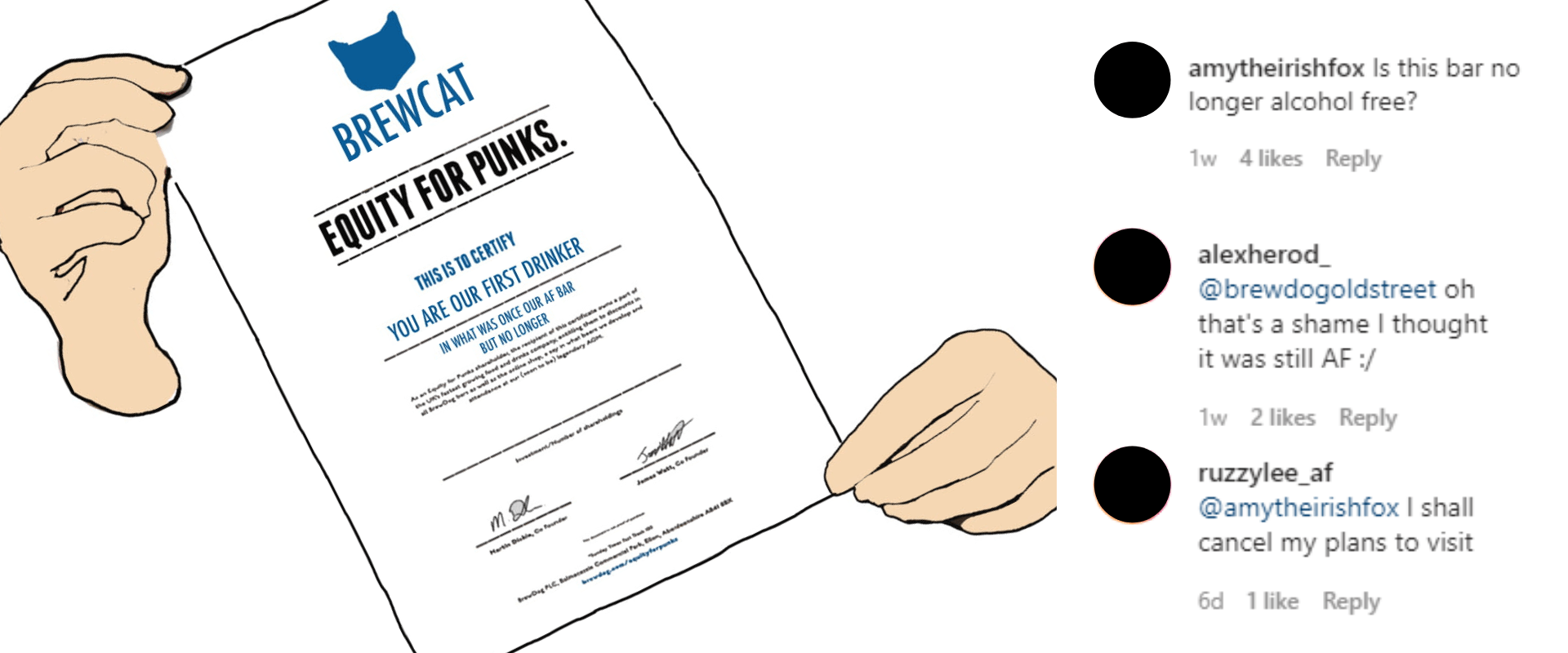 BrewDog's Alcohol Free Bar Now Sells Alcohol – The Unofficial Announcement.
"WE ARE OPENING THE WORLD'S FIRST ALCOHOL-FREE BEER BAR"….well that didn't last long. BrewDog's alcohol free bar in London (Old Street) is no more! – They're yet to make an official announcement about it, so we thought we'd do it for them.
After releasing Nanny State over a decade ago, BrewDog has consistently created top quality alcohol-free craft beer. With Punk AF, Lost AF and Hazy AF (to name a few) all widely available in supermarkets and pubs it is safe to say that BrewDog was already leading the way for big breweries in the AF market. And in true BrewDog fashion, they took it a step further. 
BrewDog shocked the UK!
In January 2020 BrewDog shocked the UK by opening their first alcohol-free venue in England's capital city. Boasting 15 taps of AF craft beer was a huge step in the AF industry, and a promising sign for the sober, sober curious and those searching for an alternative venue.
As a YADA team, we were encouraged to see that what we were aiming for was achievable and tangible. BrewDog's alcohol free bar launched with a bang with free refills of their AF beer on tap for the "Drink All You Can Jan" campaign.
From an outsider's perspective, everything seemed to be going really well, and we know a lot of people (including us) had a trip planned for when the lockdown was over. But now we are not so sure…
Somewhere between national lockdowns, there has been a bit of a sneaky switch up and the venue is no longer free of alcohol.
There were some subtle signs like their Insta handle changing from @brewdogaf to @brewdogoldstreet. And we had heard rumours of them selling a few of their alcohol options but nothing concrete.
This pilot AF bar seems to have swiftly ended, but with a lot less noise than it started with. Was this just a Dry January promo stunt?
IT'S OFFICIAL….kinda
When pubs opened up again on 12th April, BrewDog Old St posted a photo of their first customer proudly holding an alcoholic beverage. Which came as a shock to some fans, as you can see by the comments. But what many are most annoyed about is the lack of announcement. The bar has built up a strong following, on the basis of it being an alcohol-free space.
As an AF venue ourselves, we claim to be for everyone, but we know that we will naturally attract those who are on a sobriety journey.
This comes with a few extra responsibilities and considerations that seemed to have been insensitively forgotten by BrewDog. Here are some well-articulated responses from our new friends.
BrewDog's reply.
The BrewDog reply didn't leave much for us to go on either. So the question is, where is the announcement? Where is the clear cut off, that says this is no longer an alcohol-free space? I think they owe people that much at the very least.
So what's the reason?
Well, to be honest, we don't know. For a company that loves to chat about their behind the scenes, we are surprised that not even a tweet was posted about this. Leaving us to speculate.
Were they making enough money? I guess it could have been this simple. For us, more northerly inclined just stepping past the M25 divide makes my wallet nervous. So being in London must have required a heavy investment which would have demanded a high return. But let's be honest, pioneering something new is never going to make a load of money right away. And the bottom line is you don't open an AF bar to rake in the cash, you do it for the people.

Were they not able to attract enough people? Maybe, but this was not a unique issue after a year of national lockdowns. There's a very obvious reason for that – And it's nothing to do with the type of drinks they served.

What they served? They had 15 taps of AF beer, created a space for Mash Gang to launch their products and from what we have heard served some cracking food. So it can't be that either.

So the best we can come up with is that they are being held hostage by some really angry drinkers who demand their pints to be the "real" stuff. If this is the case, blink twice in the next video you post and we will take that as a send help message.
Dismissing the need
In my opinion, shutting down this pilot so quickly without an announcement does two things. 
It dismisses the sober community and demonstrates a lack of care. It feels like a signal to say that an AF venue is not worth it, and therefore the people it benefits are not worth the effort. By not announcing the change you are putting those who are going through a sobriety journey at risk of relapse.

A step backwards for the AF industry. This sector has been on a rapid rise over this past year and shows no signs of slowing down. Whilst the AF breweries, in particular, are gaining some traction with beer lovers. This change hinders progress and caters to the "what's the point" comments that we so often get.
Maybe we are being a bit harsh, and I highly doubt that this was the intention of the BrewDog team. But this feels like they are dismissing the need for the sake of the bottom line. The night-time economy is in need of some alternative venues for a number of reasons, but here are a few from Captain James. (Here are some that we have come up with)… Which begs the question, did they truly care?
OK, so BrewDog's alcohol free bar is no more. But all is not lost…..What next?
Well for starters, BrewDog still makes some great tasting AF beers and I am sure this will continue. Secondly, for those looking to drink less while still enjoying a social night out, all is not lost. We at YADA are on a mission to revolutionise the night-time economy and loosen the grip that alcohol has on our communities. Our AF bar in Derby is committed to showcasing ALL the great tasting alcohol-free drinks on the market.
A cheeky request – let's chat
If any BrewDog senior execs are reading this (unlikely I know). First, get on with making a statement about Old Street. Then drop us a line! We would love to find out more about your learnings from running an AF venue. How about you give us some money and we will run the AF bars for ya? Seriously though we are a start-up social enterprise we could always do with a few hundred thousand 😉
This opinion blog was draughted by Rhondell Stabana and a host of Brewdog AF (Old Street) Fans.